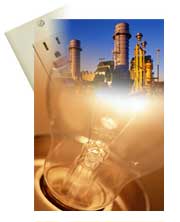 UtilityONE audits bills and investigates cost effective procurement opportunities in electric and natural gas service. Our staff is trained to research Pennsylvania Utility Commission tariffs that are applied to your service. We look for billing errors and tariff discrepancies that energy companies impose on their business customers. In some cases, clients are overcharged for years and never realize it until they have had a professional audit performed on their billing history. Even if the error is unintentional, the important thing is getting your money back and reducing further loss for your business.
Consider this, when you receive inventory from a vendor it is counted and inspected to ensure it is correct. Just like inspecting inventory, UtilityONE inspects utility bills and audits your energy services for correct tariffs and accuracy in billing systems.
UtilityONE works with various service providers and will review with each client alternative supplier proposals. Determining which options are the best for an organization is much more involved than simply comparing quoted prices. UtilityONE will evaluate and streamline this process.
UtilityONE will audit your energy and billing service for:
Incorrect Pricing
Investigate alternative power suppliers to receive better rates on gas and electric service
Application of the most cost effective tariffs
Review with each client, usage patterns and current market conditions to determine whether term contracts are feasible cost effective alternatives.

The question is, are you paying for the actual service you receive, or are you paying for the amount you were billed?