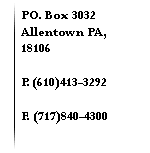 Dave Burchstead, Purchasing Manager
Our experience with UtilityONE has been highly profitable in 2 ways. First, they identified ways to reduce our electric costs by over $7,000.00 annually. They then pursued and obtained a refund in excess of $12,000.00 for previous overcharges. True to their word UtilityONE uncovered and presented these savings without 1 penny of out of pocket expense.
| | |
| --- | --- |
| | York |
John Prengaman, General Manager
We were contacted last year by Utility One. They did a professional analysis of our waste contract and we were able to save over $2,000 a year. The total time we invested was less than 30 minutes. Based on the experience and professionalism of Utility One we have recently asked them to research two other utilities for us phone service and cable service. I would recommend Utility One to any business looking to control their utility costs.
| | |
| --- | --- |
| Engel Machinery Company | York |
Michael Roche, Material Logistics Manager

I strongly recommend UtilityONE, Inc. to your organization. With a minimal investment of our time we will save over $6000.00 per year on our Waste & Recycling overhead costs.
UtilityONE has the "Insider Industry Knowledge" that makes them a leading business consultant.
Linda Brashears - Controller
I was skeptical at first; however UtilityONE has proven themselves to be very knowledgeable, and dependable. Our company's expenses are lower and we are very satisfied. We would certainly recommend UtilityONE to anyone who would like to save money.
| | |
| --- | --- |
| Topflight Corporation | Glen Rock |
Dick Amspacher, Vice President of Finance

Thoughts on collaboration with UtilityONE, Inc. as our utility/telecommunications Consultants:

We have been using UtilityONE's services for about three years.

Topflight Achievement Highlights:

1. UtilityONE, Inc. identified tariff/billing irregularities and pursued two vendors resulting in almost $60,000.00 in credits and refunds.
One year later, UtilityONE, Inc. negotiated with vendors to reduce costs on new service agreements successfully reducing overhead by over $40,000.00 annually.
UtilityONE, Inc. can be relied upon to assist with cost reduction or technical assistance as new issues arise over time. We have expanded their scope of responsibility to include Natural Gas and Wireless Communications.
We advise any company to let UtilityONE, Inc. spend their time saving you money!
| | |
| --- | --- |
| Four Seasons Fireplace & Patio | Lancaster |
Christine M. Gadreau, Controller
Running a business in this current economy is not the easiest thing to do today. Cutting expenses should be one of your main focuses. That is why when UtilityONE came to Four Seasons Fireplace & Patio with help in that area, we listened. They were able to look at all of our utility bills and cut costs in many areas. The utility industry is not the easiest area to understand and when I was getting many calls from different telephone companies telling me they could help, it was overwhelming. UtilityONE was able to take that information and give me the best choice. I would recommend that you at least listen to what they have to offer.
| | |
| --- | --- |
| Heavy Duty Parts, Inc. | Harrisburg |
Jay Wassall, Controller
I found UtilityONE to be a very professional and responsive organization to work with. They analyzed our telecommunications requirements and made recommendations to meet our needs. After selecting their recommended provider UtilityONE took care of the switch in vendors so it was transparent to us. The new service provider has performed flawlessly, our users are very satisfied, and we are realizing significant cost savings.
| | |
| --- | --- |
| Conductive Technologies, Inc. | York |
Geary Rentzel, Purchasing Manager
As the purchasing manager for a large manufacturer in York, I am constantly looking for ways to reduce overhead costs. Over two years ago, I developed a partnership with UtilityONE, Inc. The relationship has been very beneficial for Conductive Technologies in terms of overall cost reduction in our utilities and communication expense as well as on going assistance in identifying both overcharges and additional methods for saving cost without sacrificing quality of service. Over the past two years UtilityONE has conservatively saved Conductive Technology over $35,000.00. We will strongly recommend UtilityONE. It is a win - win relationship.
| | |
| --- | --- |
| | Hanover |
Allen Onelius, CFO
UCP of South Central PA Inc. has been using Utility One since April 2003 to monitor and coordinate our phone needs in our four county service area. The service has been excellent with an average 6% decrease in phone costs despite growing demands. Utility One analyzed our phone needs and negotiated with the various phone companies to achieve the best possible rate, they continue to review our needs to make certain we are receiving the most economical services. This has saved our staff the time and hassle of dealing with the ever increasing and complex regulations and plan options.
| | |
| --- | --- |
| Howard Robson, Inc. | Lancaster |
Agnes Shank, Human Resource Manager
Howard Robson, Inc., has been affiliated with UtilityONE since March of 2001. Being in the construction business, quick turn around time is critical, and there is a high volume of start-up and close out of jobs throughout the state. We require our telecommunication needs to be met on a timely basis, and in the most cost effective manner. UtilityONE provides this service in an exceptional and professional manner.
| | |
| --- | --- |
| Lincoln Bus Lines | Hanover |
Brenda Shue, Controller


When we first heard about UtilityONE's services we were skeptical. We had just gotten a price reduction from our long distance carrier and doubted that the effort of making copies of bills would be worth it. We are very glad we listened. Through their industry knowledge and contacts, UtilityONE Inc., not only saved us additional money going forward on our telecom, they have found over six months worth of long distance refunds and recovered over $1500 in wireless slamming charges over the past 2 ½ years. I definitely recommend UtilityONE's services.
Reprint Management
Services

Lancaster
James Lewis, Vice President
Alicia Bradley, Office Administrator
UtilityONE has been a very valuable business partner for RMS. Almost two years ago, as we were preparing for a move to a new and much larger office space, UtilityONE helped us sort out the many proposals we had from local and long distance service providers. They helped with recommendations on configuring our phone and computer services in the best manner for our business. As an inside sales company that relies on telecommunications it is imperative that we have the best service available at the most competitive price available. We were extremely unhappy with our prior phone service carrier and were in the process of trying to resolve rate and service disputes with them. At the time we were definite about wanting to make a provider change when we moved.
UtilityONE gave us recommendations on both local and long distance service providers based on our needs. The long distance provider we ended up signing with was one that wasn't even on our list to consider but came highly recommended by UtilityONE. We continue to be impressed and very satisfied by the service provided by the vendor they recommended. We are grateful to them for connecting us with this outstanding company we couldn't have found on our own.
In addition to the planning stages of the move, UtilityONE helped with the execution as well. They were on-site the day we moved to facilitate the cutover from our previous location to our new one and make sure everything went smoothly. We have continued to use their services for assistance with resolving the ongoing rate dispute we had with our prior carrier. They completely took over the time-consuming and frustrating task of following up with the carrier to try and resolve the various billing issues.
UtilityONE has also assisted us by making recommendations on wireless phones for our office staff. They have continued to be a great resource when technology demands changes or upgrades to our systems. We can always count on UtilityONE as an advocate for us if problems or questions arise with any of our current telecommunications vendors.
| | |
| --- | --- |
| First Preferred Financial | York |
Michael DiCicco, Manager
We recommend UtilityONE to any business in the Central PA area. The initial savings were great. However, UtilityONE's real value became apparent when they were willing and able to interface with various vendors to solve technical & scheduling issues, which were threatening to delay the successful completion of our facility move.

| | |
| --- | --- |
| Hostetter Construction | Hanover |
Janice Oaster, Treasurer
UtilityONE, Inc., had contacted us over two years ago. At the time I felt we were in great shape, but as it is my job to maintain cost for our company, I agreed to a brief appointment. After hearing the minimal amount of our time & effort required to be involved, I decided to give them an opportunity. A few weeks later we met for a second time to review UtilityONE's analysis. As it turned out we were in pretty good shape, however, they were successful in showing Hostetter additional monthly savings, without changing vendors. Subsequent to our initial audit, I have kept an on-going relationship with UtilityONE, Inc. that has been beneficial in many ways to our business. It's nice to know that we have someone to call when I have a questions or problem concerning our utilities.
| | |
| --- | --- |
| Alexander Spring Rehab | Carlisle |
Cathy Barrick, Administrator
Using UtilityONE has saved our company a great amount of money. Your consultants are professional, easy to work with and eager to deal with problems or issues that may arise. We are very satisfied with your services and will recommend UtilityONE to other companies.
| | |
| --- | --- |
| Hanover Iron Works | Hanover |
Rex Walter, President


UtilityONE, Inc. has been an invaluable asset to our company. When we had our first audit done, they were successful in saving us money in 3 out of 5 areas audited. They were also successful in getting us refunds, for charges that according to the "Public Utility Commission" were being unjustly charged. Since our relationship began we have relied on UtilityONE, Inc. to obtain additional savings and refunds. I can honestly say we have never paid UtilityONE, Inc. any out of pocket expense. They found savings and refunds, and were paid strictly by money they have obtained for us. As far as customer service is concerned they have been fantastic. There are times they occasionally stop in just to make sure things are going smoothly and when I call with a question, their response times are great!
| | |
| --- | --- |
| R.H. Crawford, Inc. | Hanover |
Bonnie Walters, Accountant
Their service is fantastic. UtilityONE's "insider" industry knowledge saved us thousands of dollars in utility overhead costs. Equally as impressive, long after our initial audit, UtilityONE identified billing inaccuracies on new invoices and negotiated refunds on our behalf. We strongly recommend anyone who feels they are in "good shape" to take advantage of their service, its win-win!
Bret Thoman, Administrator
I had been referred to UtiliyONE soon after I acquired the company. I contacted them and we met for an initial appointment that took about 25 minutes. A few days later they picked up the bills they requested. Six weeks later, we met again to review the results. I couldn't believe it. The cost saving ideas they presented showed significant monthly savings and they found tariffs that were outdated and counterproductive for our business and suggested changes that made our billing much more convenient. With literally an hour of my time, UtilityONE saved my company over $32,000 a year. Along with the savings, their service is fantastic. They handled every aspect of the changes. I did nothing but sign forms and give the OK. I can't say enough about what UtilityONE did for my company.
| | |
| --- | --- |
| Breuner's Home Furnishings Corporation | Lancaster |
Jeannine Bogacki, Finance Controller
With 52 locations around the country, our company is always looking for expense savings. UtilityONE was able to help us locate multiple opportunities in our very extensive telecommunications area. And while we continue to enjoy monthly savings, UtilityONE is always readily available to follow-up on our subsequent inquiries and request. Based on the service and the savings provided to Breuner's Home Furnishings Corporation, I would recommend UtilityONE to other organizations.
Roland Maust, Director of Communications
Brethren Village engaged the services of UtilityONE, Inc. to oversee the RFP process of re-bidding our local and long distance phone service. Not only did UtilityONE identify the best vendors for our local and long distance requirements, they also identified overcharges and obtained refunds from our current suppliers. After the vendor selections were made, UtilityONE stayed involved thourgh each step of the cutover ensuring our new service provider adhered to the technical and functional requirements of the RFP and Brethren Village. I would encourage any organization to take advantage of UtilityONE's services.